Cooking classes in Italy, Italian cooking classes and culinary tours in Marche Umbria and Tuscany, Italy.

Hands-on cooking classes,experience your holiday as a real full immersion course in the Italian gastronomy
Have you ever wanted to learn to cook like an Italian? Well our award winning cooking classes in Italy offer a unique opportunity to experience at first hand authentic Italian regional cooking techniques and recipes that have been developed and handed down over generations. Our Italian cookery classes has been rated by The Good food channel as one of the "Top ten cookery schools in Italy".
Our cooking classes in Italy take place in beautiful Caravanserraglio, a recently restored large Marche country-villa set in a wonderfully tranquil location in the hills of the Sibillini National Park some 60km east of Assisi south of Urbino.
Our cooking classes allow you to immerse yourself in the culture and lifestyle of Italy and learn to cook authentic Italian dishes in an informal and friendly environment.
You will learn the passion of the Italian kitchen and, importantly, have a lot of fun and enjoyment doing it.
1250,00 € per person per week all included
Check the dates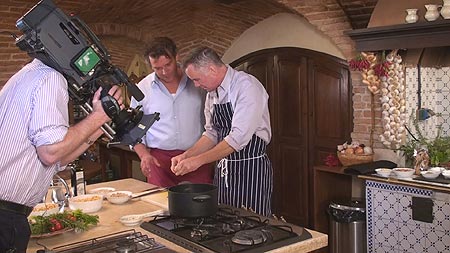 Ennio with Celebrity Gary Rhodes in a Italian Cooking Course
Holiday Cooking Courses in Italy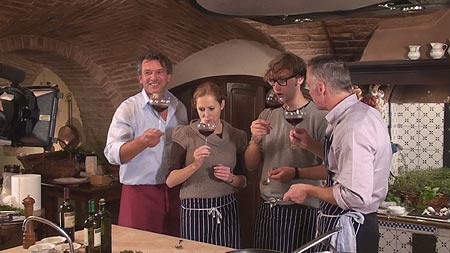 You can join a Italian holiday cooking course as well!
Wine Tastings and Cooking Holidays in Italy
Our cooking classes in Italy are taught by Ennio Barbieri, a Italian born chef who ran his own successful restuarant for more 20 years.
Ennio's cooking classes offer a comprehensive hands on course designed to teach you to make splendid 4 course Italian dinners covering all the basic Italian cooking techniques, from pasta to pastries and everything in between. The cooking classes are given in the "Cantina" of Caravanserraglio. All of the ingredients you will use are bought each morning from local markets and so you will be working with fruit and vegetables in season.
Throughout our cooking classes in Italy you will learn about the ingredients and the traditions around the dishes as well as food presentation and wine choice. For all courses you will receive a cookbook including recipes of all the dishes made during your stay, an exclusive apron and a certificate on completion of the course. The chefs have chosen dishes that can easily be made at home and using ingredients that you generally can also find in most specialty or general stores.
Our cooking classes in Italy run from Saturday to Saturday during high season, and include 7 elaborate hands-on cooking sessions with enough time to relax and enjoy the surroundings. 5 half-day excursions will be organized to visit vineyards for wine tasting, as well as to a local producer of olive oil, local cheese and time for shopping. It is also possible to bring along a non-participating partner who can spend the days sightseeing, playing golf or enjoying the swimming pool and then rejoin the party for the evening meals.
We now also offer a Mediterranean Cookery Course designed to teach you how to cook light dishes with an emphasis on great taste and low calories.
If you are looking for expert cooking lessons that will enthuse you with the knowledge and desire to cook authentic Italian cuisine then look no further than terradarte. Find out more about our cooking lessons here. Alternatively, go straight to our cooking lessons dates and itineraries page, and start dreaming of your Italian cooking lessons in Italy.
1250,00 € per person per week all included
Check the dates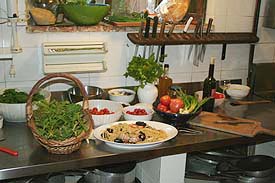 Italian Cooking Courses, hands-on cooking classes and culinary tours in Italy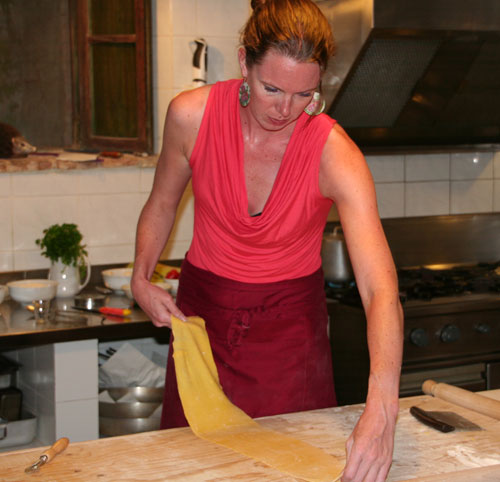 Italy hands-on cooking classes with Wine Tastings Italy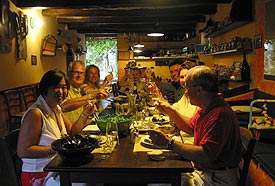 Cookery classes at the Caravanserraglio restaurant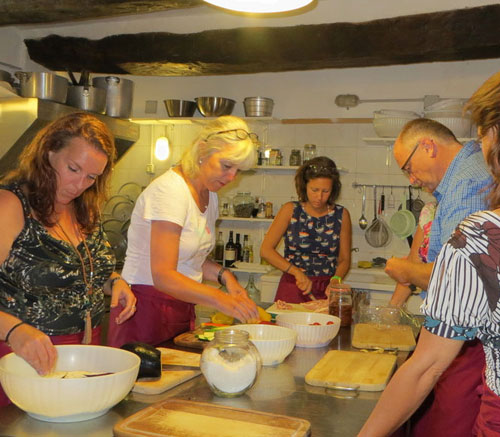 cooking classes and culinary tours in Marche Umbria and Tuscany, Italy.
You don't need to be a Masterchef to join the class. During the day a professional chef will show you how to cook the programmed meal. You can participate by helping the chef, cooking under his guidance, or choose just to watch and take notes. It's up to you. Once everything is ready you'll sit at the table to taste all the dishes together with the chef. This is our interpretation of Italian Cooking Holidays with daily Cookery Courses in Italy! Terradarte is a specialist Italian holiday Cookery school offering quality Italian cooking holidays and courses since 1999. Choose from a week long Italian cooking vacation in Marche, Umbria or Tuscany where you can indulge in 7 days of glorious Italian food! We also have short break cooking holidays to the very popular regions of Ascoli Piceno and Tuscany. Come to cook in Italy, join hands on cookery lessons and wine tours with expert! Learn from professional Italian chef, shop local market then cook in 8 persons class. Having loads of fun during your Italian cookery holidays....and an unforgettable Italian cookery experience! Come and join Italian cooking courses in the Marche, in this region you can still find the real feeling of the Italian pleasure of life and Italian food. During your Italian cooking holidays you will enjoy guided tours with your fluently English speaking hosts. Come and discover Le Marche with Terradarte.net If you are planning a cooking holiday in Italy and good food, good wine and cooking are your passions than this is the Italian Holiday for you!Join a hands-on cooking course with your own personal Italian chef! Winery visits and tastings, hands-on cooking lessons, Accommodations rooms with private bathrooms. We takes care to use local fresh product from our organic kitchen garden and orchard, or from other local farms specialising in cheeses, bread, vegetables, meat ecc. The beautiful position of the restaurant at the property of the Caravanserraglio Agriturismo, with ten hectares of land with olivegroves,vineyards, organic kitchen garden and orchard, make the cooking courses a delightful experience full of new discoveries! Ciao and see you in Le Marche!