If good food, good wine and cooking are your passions, if a gourmet vacation is what you are looking for, then Intenso Cooking course in Italy is the solution for you! In ours classes, the chef behind the authentic rural italian atmosphere teaches you how to master the fundamentals of cooking. Learn about handling kitchen tools, preparing foundational ingredients (like vegetables, mushroom and truffle, fresh and dry pasta), and the science behind cooking. €1250,00 per person per week all included
We sincerely hope that 2022 will be free from all the constraints of the pandemic. At the moment the new dates are on request, lease contact us for updated dates.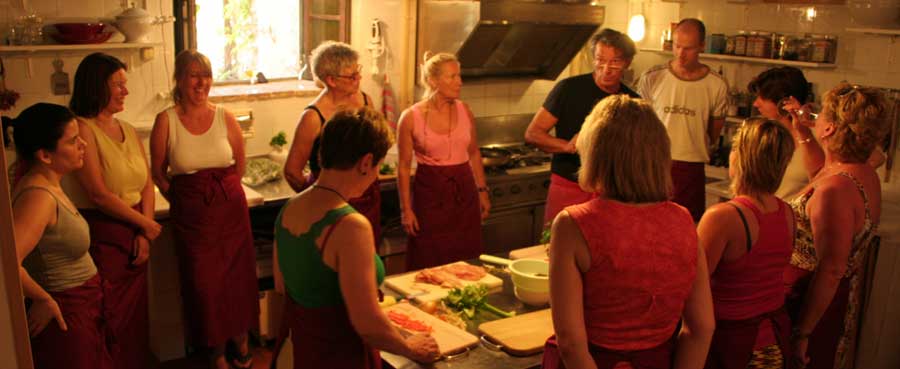 In this MasterClass, you´re not just learning recipes, you´re learning how to take your cooking to the next level.
You don't need to be a Masterchef to join the class. During the day a professional chef will show you how to cook the programmed meal. You can participate by helping the chef, cooking under his guidance, or choose just to watch and take notes. It's up to you. Once everything is ready you'll sit at the table to taste all the dishes together with the chef.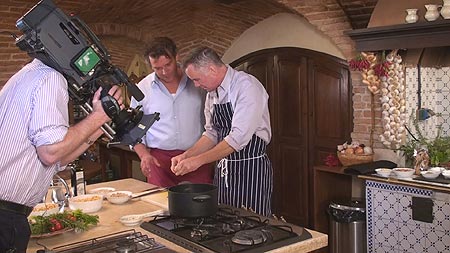 Ennio with Celebrity Gary Rhodes in a Italian Cooking Course
Holiday Cooking Courses in Italy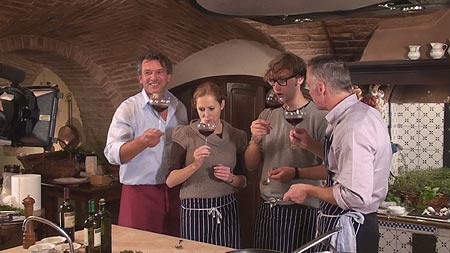 You can join a Italian holiday cooking course as well!
Wine Tastings and Cooking Holidays in Italy
Everyday a cooking Italian course, excursions to local markets to buy the ingredients, picking aromatic herbs and vegetables from the kitchen garden, wine tasting and lectures. Italian cuisine is inseparable from the Wines and the vineyards the markets and the medieval villages, the landscape and the climate and Marche is the perfect place to experience the real authentic Italy.
Everything included, no extra cost, accommodation and courses, one week hands-on italian cooking course, with wine tastings, excursions in Marche,Umbria, relaxing at the pool under the italian sun.