This course is for everybody who is playing with the thought to dedicate him/herself professionally to cooking, or is already doing so, or has the dream to do so. It concerns the organization of the kitchen, the choice of the menu, the raw materials and the selection of wines.
The theme week 'Cooking course professional (Italian) cooking' is inclusive 1 week accommodation with breakfasts at Agriturismo Caravanserraglio in Le marche, 2 cooking courses, 1 excursion, 2 dinners and 1 brunch.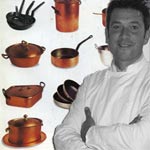 General description of the course

The maximum number of people for each group is eight, to guarantee a personal entertainment and a good service, and to maintain the feeling of an individual traveller. The courses are held at Agriturismo - Farm Holidays Caravanserraglio, the biological azienda produces it's own Extra Virgin Olive Oil and has 2000 fruit plants with thirty different varieties of apples and further pears, apricots, prunes, peaches, figs etc. The vegetables and herbs that come from the big biological kitchen-garden are used for the cooking courses and in the restaurant of Caravanserraglio. The property is situated on top of a hill, surrounded by woods, olive groves and vineyards with a beautiful view over the Chienti Valley and the Sibillini Mountains. It is the ideal place to relax, it has a beautiful swimmingpool, grazing horses and a small wooden play-house for children. The azienda exists of four stonebuild (the pietra rosa) houses from the 17th Century, devided in four Holiday Apartments for a total of 20 persons. Furthermore it has the restaurant, reserved esclusively for the guests, situated in the former stables, a reading room, a cantina where to taste wines and enjoy conversations and music, a laundry room, a separate part with the animals and the house of the owners. The nearest town is Serrapetrona, about 2 km. Less than 10 km are Camerino, San Severino and Tolentino. In 10 min. you can reach the highway Civitanova Marche (direction Adriatic sea) – Foligno (direction Umbria). Ascoli Piceno, Urbino and Assisi are less than 100 km, Siena and Florence 200 km.